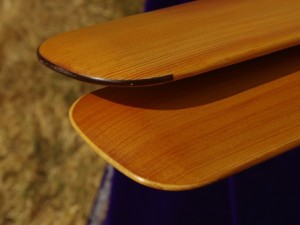 Solid paddles are made of quarter sawn Western Red Cedar for its light weight.    Hardwood tips (bottom)are a standard feature to minimize splitting and create a finer taper at the tip.  For more resistance to chips, an epoxy poured tip is optional (top).  There is no charge for epoxy but it adds to the lead time.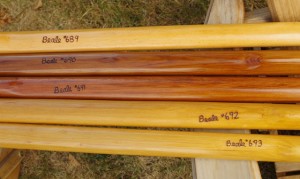 Each paddle is numbered as it is finished.  If you have tried one of my paddles and liked it,  simply send me a note with the number and I can duplicate the dimensions from the records.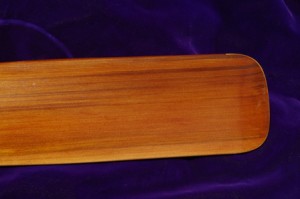 Finish is a sealer coat of epoxy followed by at least three coats of tung oil finish.    One paddle here has been dyed with an alcohol-based red color prior to finishing. The natural color of Western Red Cedar varies from blonde to dark brown.  Paddles are finished in their natural color unless otherwise requested.   Each piece of wood has it's own hue and color variation.  If you like a particular picture,  I can choose a piece that is similar. But it is not possible to duplicate a given paddle's color from the picture.